Welcome to our class website!
Kindergarten is the start of an exciting adventure for both you and your child. I hope you enjoy exploring information about our class, our curriculum, and general info for family members. Use the blue navigation bar above for multiple resources, including links to support learning at home.
Want to Volunteer/ View Our Sign Up Form for conferences and more? Click Here
Thank you again for visiting our website!
Ms. Moote,
Kindergarten Teacher
Center Street Elementary School
El Segundo, CA
Contact:
Two way communication is very important to me. Please check in if you have any info to share or questions. We can meet have a zoom meeting, or communicate via email, or phone. Class Dojo messages will be great because they will all be there in one place for the year.


A Little Info
About Me :
Although I am a native Californian, my family is originally from Canada, and I feel connected to my Canadian roots. I began teaching Kindergarten at Center Street Elementary School in 1987, and have truly loved each and every year! I received a BS degree at the University of Southern California, and a Master of Arts Degree in Curriculum.
In 2002, I certified as a National Board Early Childhood Generalist, and renewed my certification in 2011 and in 2021. This process was such an amazing one, I decided to become a candidate support provider for others interested, and have supported colleagues in El Segundo and in surrounding South Bay cities. When I am not teaching, I enjoy reading, cooking, dining, going to movies, and singing in my church choir. I also love live music, picnics, art galleries, and the arts generally.
A few years into my career, I co-founded DAMLA, (Daphne A. Moote Learning Academy) a non-profit learning academy, where our philosophy, "Fun while learning in a relaxed, non-threatening environment", is supported. The curriculum incorporates drama, art, science, cooking, self-esteem enhancement, and leadership training for children ages 5-12. This is a joint project with co-founder, Akani Fletcher, creative director. Akani writes and directs original children's plays for each workshop.
I am an avid and active supporter of public school education. I served as president of the El Segundo Teachers Association for 15 years, working to support student learning, the integrity of the teaching profession, and building positive working relationships with the district and local community. I remain committed to preserving the highest standards of the teaching profession. Currently I serve on the Superintendent's Advisory Committee, trainer of the TLC staff at the ESUSD After School Day Care program, and elected member on the California's Teachers Associations' Bay Valley Service Center Council.
MISSION FOR OUR CLASS:
To enhance learning opportunities for my students by providing an atmosphere where students' natural love for life and learning are encouraged, nurtured, and intrinsically instilled.
I am committed to creating an opportunity for my students to develop a strong sense of community with each other and the world around them. My goal is to have a classroom environment that is calm, caring and respectful.
Our curriculum is carefully planned and includes intellectual, social-emotional, and physical instruction. This includes strong academics, hands-on science experiences, social skills, the arts, and multiple opportunities to develop gross and fine motor skills.
It is my goal to make your child's kindergarten year as enriched as it can possibly be. Why? Because I truly believe that children's Early Childhood experiences make an important difference in a child's life. I want the children to have a solid foundation as they begin their educational journey.
Thank you in advance for the opportunity to work with your children this year. It is going to be fun!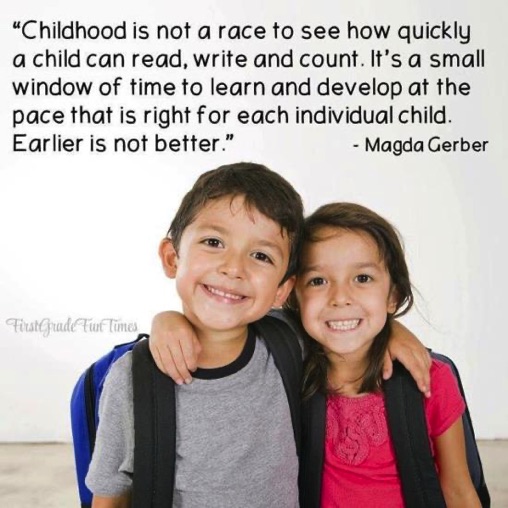 Grit: The Power of Passion and Perseverance
At the University of Pennsylvania, Angela Lee Duckworth studies intangible concepts such as self-control and grit to determine how they might predict both academic and professional success.